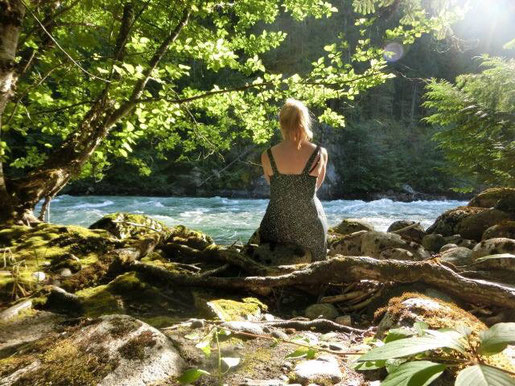 Ever wondering how my location independent summer in Canada looks like?
I've signed up for a workaway project again.
Do you know workaway?

I basically traveled around Australia in 2014 with workaway, always stopping for projects to volunteer and help a few hours per day, in exchange for free accommodation and food.
When I was still a backpacker without own online business, this was a life saver for me. I lived for free in luxury resorts on the Whitsunday Islands, farms, family homes, and animal parks.
Currently I'm on my second round-the-world trip (how exciting!), this time fully location independent.

So...why do I still use workaway?
1. I love to live with locals instead of hotels
2. I love to take part in all kind of different projects around the world. Top score for "variety".
3. I don't spend a single cent, so it doesn't really matter how much money I make in my business. 
So I decided to spend my summer in Canada at a Whitewater Rafting Resort in British Columbia.

To reconnect with nature, to try rafting, and to take some time off from the huzz and buzz of big city life. 
---
Here's how a typical day in my current project and life looks like:
7:00   I wake up in our tent. It's freezing in the mornings.

7:15    I'm sitting on my little patio with my journal and go
           through my Mindset routine for the morning.

8:00   Breakfast and dishes - after each meal all volunteers
           chip in for dishes.
9:00  Online biz work session: 
I follow up my clients and summarize our last coaching sessions and all homework and on-going tasks.
I check emails, Facebook messages, new posts and comments in my group and get back to everyone. 
Content creation: I finish two Workbooks for my upcoming Group Coaching.
I hire a copywriter for my new Sales Page and work on my first draft to send it to her. 

10:00   Workaway Shift:


I work in the kitchen and help preparing lunch for 61 guests and 28 staff members.
I work 5 hours for 5 days each week, in exchange for accommodation, all meals and one whitewater rafting trip each week.
13:00   Lunch time and dishes

15:00   I finish my Workaway Shift for today

15:00-16:00   Time to unwind.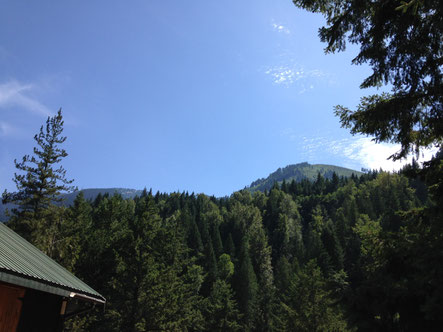 After finishing my shift I head into the forest.

I swing on the nature swing for 20 minutes to calm my brain.
Afterwards I go for a 30 minutes hike and spend another 10 minutes sitting at the river. 
Do you know the kids movie "Ronia, the Robber's Daughter"?
She is my childhood idol and she lives in a dreamy forest full of adventures.

Well, I literally feel like I live within this exact forest right now. It's magic! 
16:00   Online biz work session:
Drafting a new blog post (this one). 
Getting back to client and non-client requests.
Working on my new Group Coaching. 
Posting on Social Media (Visbility). 
18:00   Having a shower, enjoying the view, cleaning up my tent, laundry.

19:00   Dinner time and dishes

20:15   Evening Mindset Journaling

20:45   Yoga class (one day, yes ONE day I will really get into yoga...)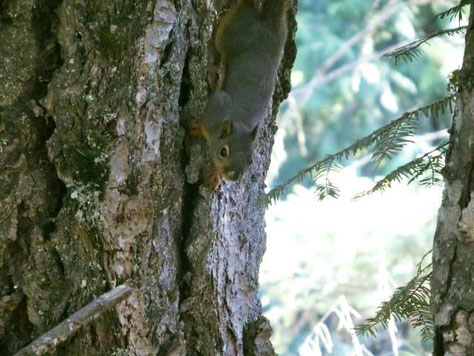 22:00 Lights Off

...which means the sun went down.
No electricity means not much more to do and we go to sleep.

The river is the last sound I hear in the evenings and the first thing I notice in the mornings. 
-------------------------------------------------
Check out www.workaway.com to find projects all around the globe. 
---