Some of the most asked questions I receive are: 
- How did you get started as a Coach? 
- Where did you get your Certification? 
I did my certification completely ONLINE - as I'm fully location independent. 
And guess what, it cost less then $500. 

Here are all the infos you'll need and a $100 discount code: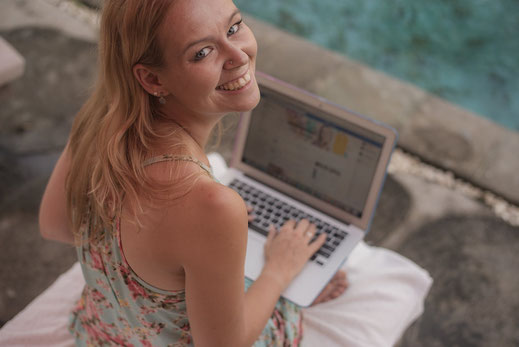 ---
How to pick a Coaching School:
Let me tell you, there are hundreds of coaching institutes out there to get certified. 
I did tons of research before I made up my mind which one to take, and here's why I went with Universal Coach Institute in the end: 
- It's completely online (so their actual location didn't matter to me) 
- It costs less then $500 - whereas most schools charge thousands of dollars
- It's a home study program, which means you can go through the content at your own pace
- It's an approved CCE provider by the International Coach Federation (ICF)
- I got 3 certifications:
Certified Life Coach, Certified Solution-Focused Coach and Certified Transformational Coach. 
If you'd rather prefer a school with 6-12 months of live classes in a real classroom, this isn't the right option for you. 

I chose this program because I didn't want to study for years before I could get started. 

You will learn all the tools, techniques and principles on how to conduct coaching sessions as well as a variety of helpful forms, files and help to actually start your coaching business. 
---
Frequently asked questions - all answered in 20 minutes!
How it works:
Once you register and pay for your course you will receive a welcome package and access to the student center. This is were you can access all your lessons as well as a broad library of coaching tools, exercises and tons of helpful forms. 
I got so much value just out of the coaching tool box: 

- A welcome pack to send to your clients
- An example of a client agreement 
- The most important questions you can ask a client 
- A business plan template 
- Payment letters and 
- Group Coaching forms
All things I definitely needed but had no idea how to create by myself when I was just starting out. 
The modules:
The modules are designed for various learning styles: 
- There's recorded video trainings
- You can listen to the lessons via audio whilst commuting to work 
- There's PDFs with all the notes to read through
I personally used the video trainings and took lots of notes whilst listening, that's how I learn best. 
---
It's completely up to you how many modules or units you want to finish in one week. 
You have access to your student center for 12 months, so you can really take your time if you are already having a pretty busy life. 
I was absolutely obsessed with this course and studied 1-2 modules every single day. This way I was able to finish all 3 certifications, within 6 weeks.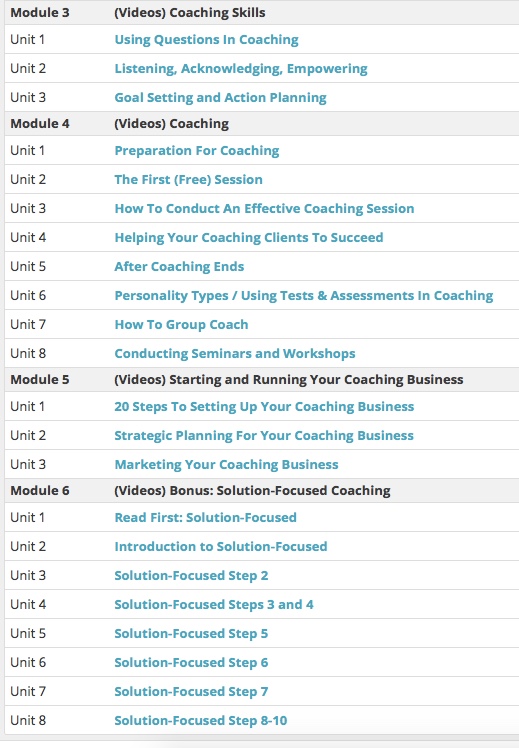 ---
Your assignments and final assessment:
There's two parts that you have to submit to actually receive your certification. 
1) Your assignments are small pieces of homework after each module, so the Coaching Institute can assess that you have watched and understood the trainings. They are really not hard after you've gone through the content. 
2) Your final coaching assessment: 
To certify that you are indeed capable of applying the techniques and principles of coaching, at the end of the course you will have to submit an audio recording of a coaching session, conducted by you. 


I honestly was super nervous about this part, but in the end it was easy and fun. 
You can either find a test client online and record the session, or do what I did:
Ask a friend to get coached for free on my couch at home. I recorded the session with the audio function of my iPhone. The session took 45 minutes. 
I uploaded the assignments and assessment in the student center, and a couple of days later I received my official certifications - online and as a paper version via mail. 
Here are my 3 Certifications: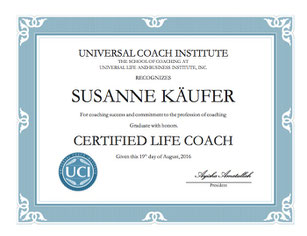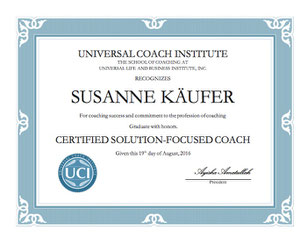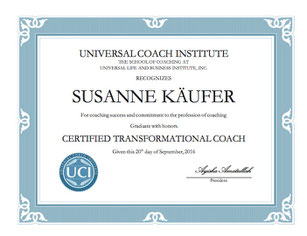 ---
Why I recommend this course:
I recommend this course because I have DONE it myself and it was the foundation for the 6-figure coaching business I've built in less then 1,5 years. 
I don't believe that you need years of studies to help others. 
I think it's great to have a foundation and good understanding of coaching before charging money, which this course will give you. 
I have recommended this course to plenty of people even before I became an affiliate for the school. 
I wouldn't recommend it if I didn't believe in it. 

Today I am honoured to refer people to the school with a $100 coupon code. Whilst I earn a small commission of $59, you can get $100 off by signing up with my coupon code on this link. Enter the code SUSIK before you exit the shopping cart. If you want to sign of for the Business Coaching course, go here instead. 

In fact I'm currently studying again with Universal Coaching Institute:
How to start my own Coaching School based on the coaching principles I learned here, so I can certify others to become a Solution-Focused Life Coach and make an impact in this world. So YES, I stand 100% behind this course. 

---